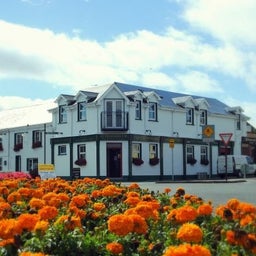 B&B Accommodation Ennis Co Clare Ireland


Looking for a vibrant place to stay in Ennis this coming summer ? Look no further as Rose Cottage in the heart of Ennis Co Clare has you covered with your accommodation, food, and a bar.
What Makes Rose Cottage Such A Great Place To Stay ?
Rose Cottage is a family run business consisting of two dwellings, which are the Bed And Breakfast and the Bar and Restaurant. It has been the go to place for both locals and tourists for many years now.
Front View Of Rose Cottage Ennis Co Clare
The Rose Cottage entrance is in the middle where the red door is and the bar is to the right directly on the corner. The bar consists of free wifi, booths for dining a lounge as well as a pool and darts area.
Rose Cottage Bed And Breakfast is situated in the heart of Ennis and literally a two minute walk to the town center where you can enjoy all that this glorious little town has to offer in the west of Ireland.
The Bed And Breakfast Consists Of:
Beautiful garden to the rear.
Matches shown on big screen 3D TV.
All en-suite.
Tea and coffee making facilities in all rooms.
TV and radio available in every room.
Single rooms available also.
Car parking space.
A Bar And Lounge Connected For Part Goers.
Bed And Breakfast In Ennis